Here is the scene. You are visiting a trendy French restaurant downtown with a group of friends. As soon as you sit down, the waiter brings the food menu along with the wine menu, which is the size of an exhibition catalogue. Immediately, your friends casually ask you, since you are the "expert", to choose what to drink.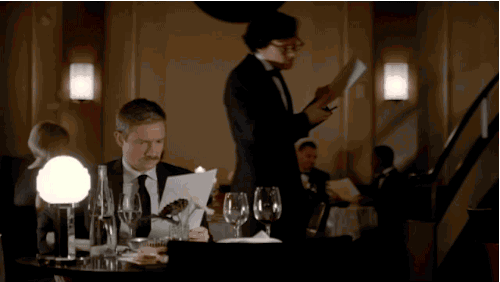 As scary as this could sound, don't panic, you can handle it. Read these few tips and we can ensure you that you will spend a splendid evening, without wasting a fortune on the wine !
Choose your food before the wine
Although when visiting a fine dining place, it is common to enjoy a glass of Champagne or sparkling wine before your food is served, the wine that will follow has to be picked based on your food's order.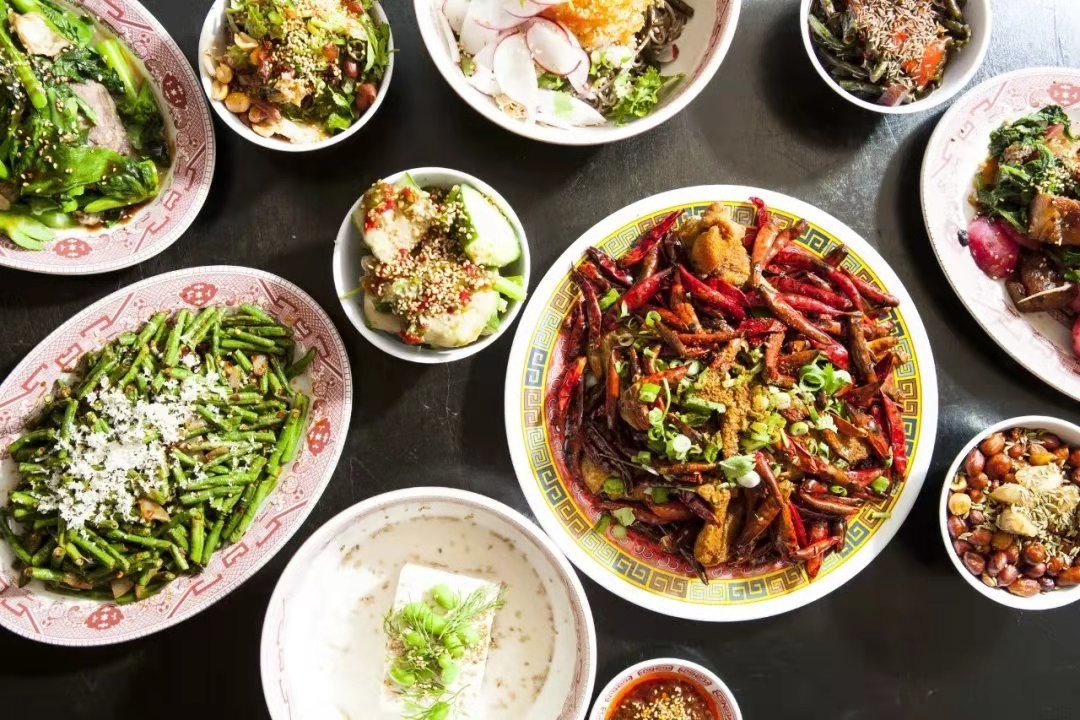 Chinese food ? Your best match will be a rich white wine or a light fruity red wine
When you are chosing the wine, use the main dishes as a reference point. Consider what you and your friends have chosen as a main dish and try to be accomodating to everyone. Broadly speaking, for grilled meats or tomato-based dishes, chose a red wine. For poultry, seafood or vegetables, chose a white wine. If everybody around the table has chosen a different dish, either you change friends, or if you care about them, chose a rosé wine ! This type of wine has the advantage of pairing well with a lot of things.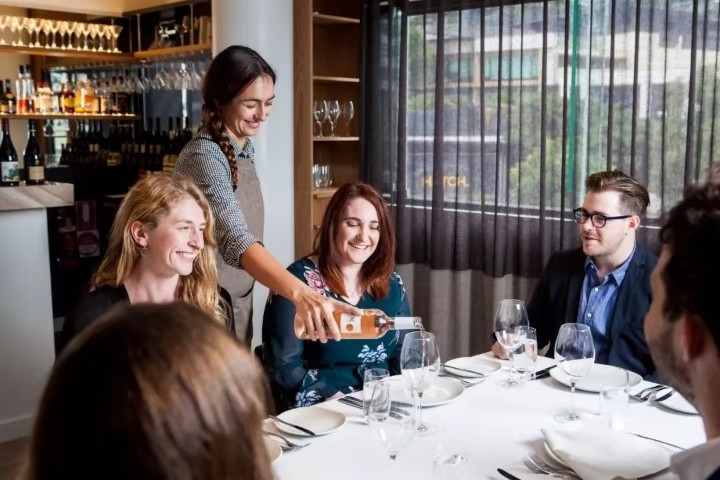 Rosé wines have the advantage to pair well with a lot of different foods and can be enjoyed throughout the meal
Don't ruin your appetite by starting with a bold wine
You might be tempted to sit down at a restaurant and order a glass of one of the big reds, like a Cabernet Sauvignon. This is a sure way to kill your appetite and spoil the evening and your meal.
Instead of going straight for the red; start with something white and light. A crisp white summer wine is ideal for starting a meal, or you could even go for a sparkling wine if you want to freshen your palate in preparation for the main course.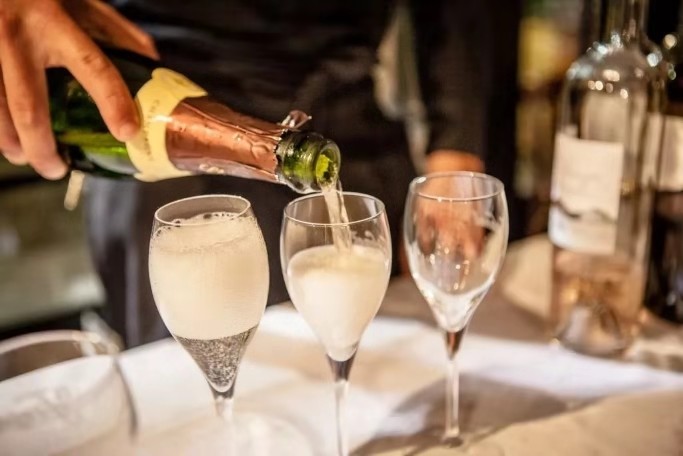 Champagne is the perfect drink to open up a meal and can also accompany your starter
In fact, the key rule in a successful food & wine pairing is to respect flavour intensities and to go « crescendo ». Like in a good piece of opera, you would expect the first act to set you in the mood with delicate melodies. The second act would accelerate the tempo and the final act would blow your mind away with epic music themes. Follow the same thinking at the restaurant : be a maestro !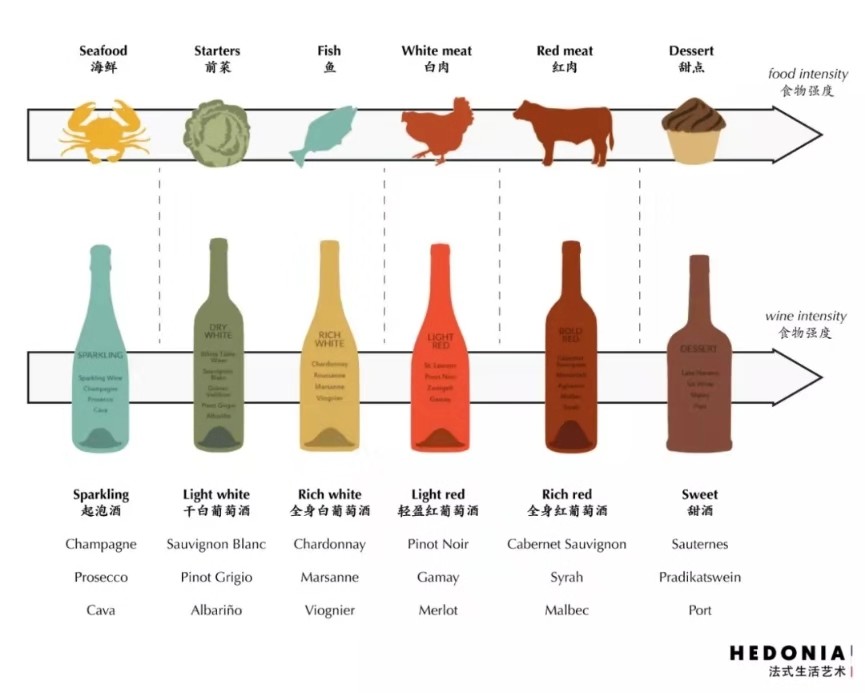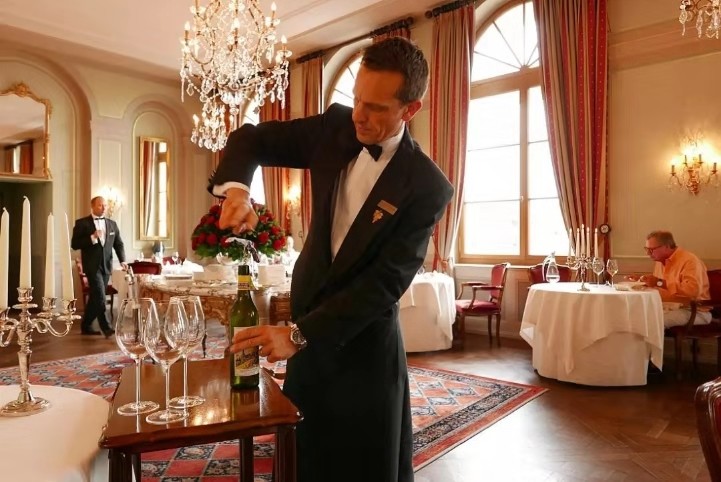 Sommeliers are here to serve wine but before anything else, their role is to recommend wine pairings : you can trust them !
Not every restaurant would have knowledgeable sommeliers like you can find in most fine restaurants in France, but, there are always exceptions.
Ask the restaurant staff if they have a wine recommendation for your order. It's worth a shot, and with wine exploding in popularity in China, more restaurants are starting to focus on this aspect of their service.
Buy a bottle instead of single glasses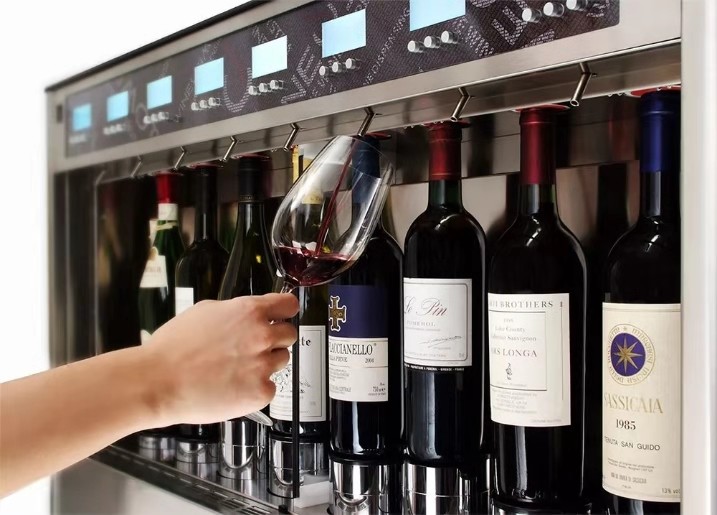 Most of the restaurants will not offer expensive wines by the glass, except the few ones equipped with a wine dispenser
If you're dining alone then ordering a single glass would be practical and recommended. If you're dining with a partner or with a group of friends or family, then make sure you order by the bottle. This can save you money, and it can also mean getting access to better quality wine that isn't offered as a single glass serving.
Wines offered by the glass are usually called « house wines ». These wines are the cheapest options and they have been marked up to make a large profit. Usually they are not the quality that you'll want to add to your dining experience.
Most expensive does not mean best

« Crus classés » from Bordeaux always display prices that are out of reach for most customers
Although price is generally a reliable reflection of the wine's quality, the most expensive wine on the list is not necessarily an indication of the best wine quality. They are often a reflection of the market placement by the winemaker.
On the other hand, be cautious with the cheapest bottles. They are often on the list purely to give dinners an affordable option, but if you're looking for something to really take the dish to the next level they will often fall short.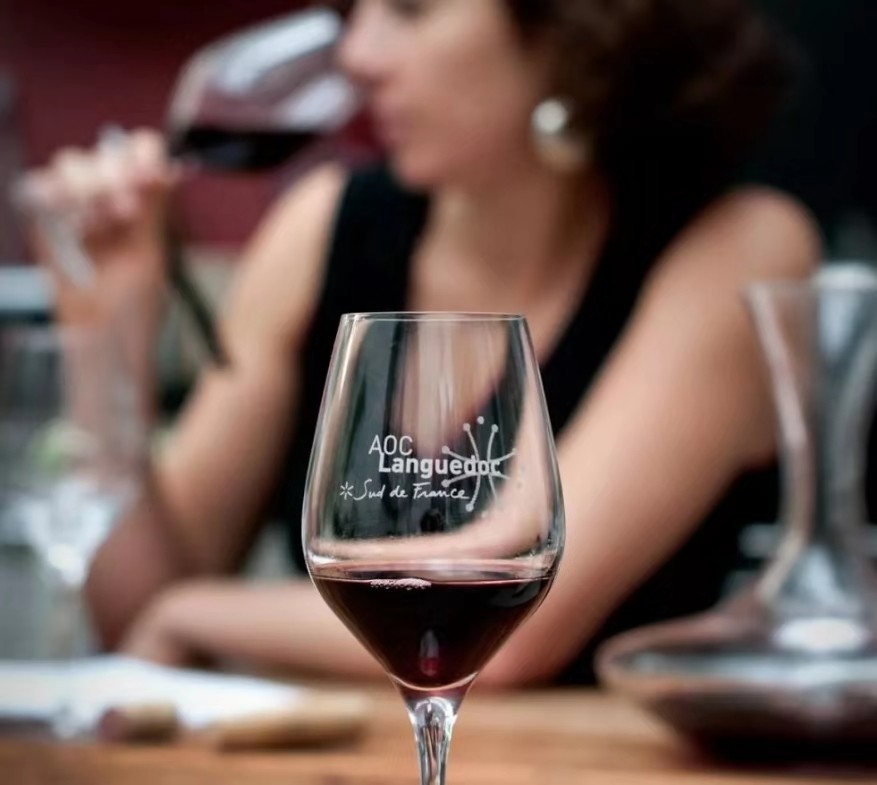 Wines labelled AOC Languedoc provide good value for money, consistently fruity and smooth on the palate
The wines on the expensive end of the list will display the most pretigious regions' names (we can state Chablis or Pouilly-Fumé for the white wines, Saint-Emilion, Côte Rotie or Hermitage for the red wines). Instead, seek out for the less familiar : Touraine, Entre-Deux-Mers, Collines Rhodaniennes… which represent excellent value for money.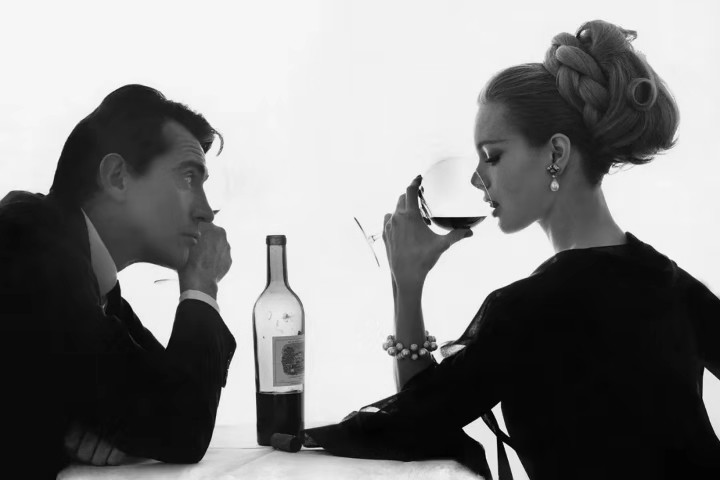 A man should not hesitate to let the lady taste if she knows more than him !
It is generally the responsibility of the host to chose the wine. However, if the host is not comfortable with that and if another guest is known to be a wine expert, whether it is a man or a woman, let that person chose the wine !
When coming back with the bottle, a good waiter will show the label to the person who picked the wine. That person will verify that the wine is the correct one and approve to the waiter. The waiter will pour a bit of wine into the person's glass and will wait for the person to taste it.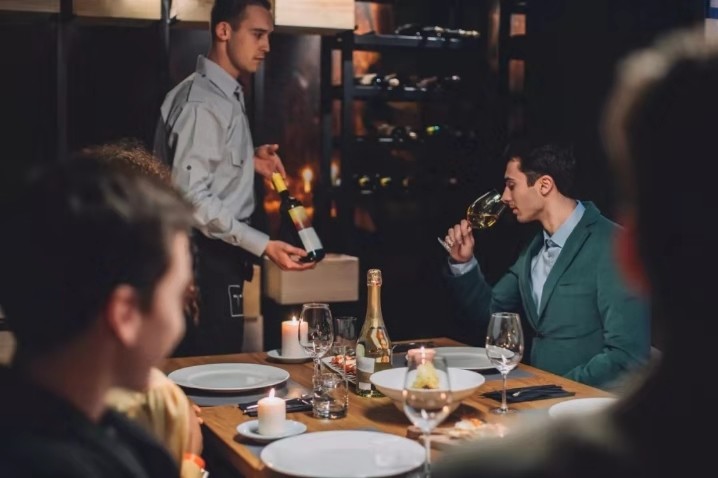 At that moment you are the center of attention. Don't panic, smell and taste the wine, and give your verdict
It is important to remind why does the waiter do so. It is not to make sure that the wine suits your taste, because you chose it and you are supposed to know the expected style of the wine. Instead, the waiter does so so that you can make sure that the wine is not spoiled and does not display any mistake. The most common one is the wine being corked, which generates a typical smell of wet cupboard.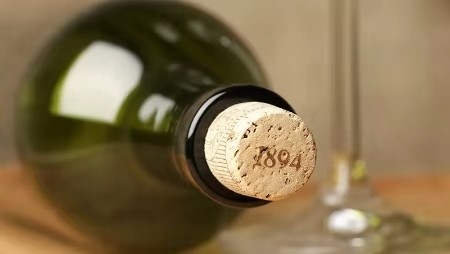 There is less than 10% chance that your wine will be corked, which is caused by the presence of a chemical compound called TCA
If a wine is corked or just tastes a bit tired, you should tell your waiter as soon as you taste it. Sometimes it may also come from a bottle that's been kept open too long. If it doesn't seem right to you, just say it. The waiter will double-check and replace your bottle.
Later on during the meal, the waiter will top up the guests' glasses as they drink. If the waiter is too busy to do so, the host could do it instead. In that case, remember to fill no more than one third of your glass. Wine needs air to aerate to release its aromas.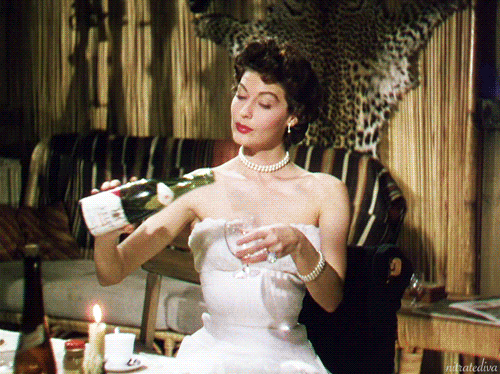 Finally, the thing to remember when choosing a bottle to share is that once you've done your best to please someone's taste, the best you can offer is conviction.
If you're happy enough, you can usually persuade everyone else that the wine is good too !


Founded in 2018 by Matthieu Ventelon, Hedonia is the first institution in China combining professional Wine and Etiquette expertise in the same training offer.
Find more information on our website : http://en.hedonia.cn